Client Testimonials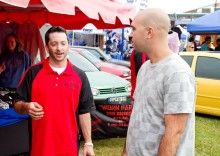 Next Level Tuning is the region's most experienced APR Authorized Distributor, & has been providing sales & installation on the full APR Product Line for over 10 years. We offer an extensive number of services, ranging from basic tune up & maintenance, to advanced performance upgrades & even full-car "builds."
It is our belief that the best way to ensure your satisfaction, as well as uphold our reputation, is to let our work and the products we stand behind, speak for themselves.
Here is what some of our customers have to say!

David H.
My experience with Next Level Tuning in Greensburg, PA, has been great! Josh and his staff will, literally, take you to the "next level" by partnering with you and deciding what mods make the most sense based on your budget and your performance goals

Matt M.
Josh at Next Level Tuning really knows his craft and has an amazing amount of experience demonstrated through my 11 year relationship with him keeping my A4 running like new. I would never go to anyone else with my A4.
Steve W.
They are very knowledgeable and they do whatever takes to get the job done right and to keep their clients happy. I don't hesitate to recommend my friends to Next Level Tuning.