APR 2.0 TSI Generation 3 ECU Upgrade for the MQB Platform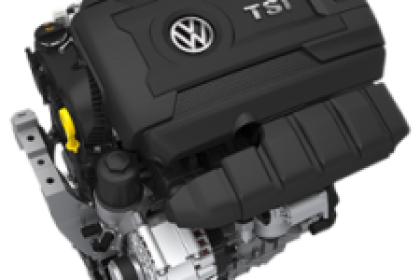 The Continental SIMOS 12 & 18 engine management system is responsible for proper operation of the engine during constantly changing environmental and load conditions. With built in compensational data for environmental variables and varying load conditions, the factory ECU is far more complex and intelligent than units found in other vehicle makes and marques.
APR's Calibration Engineers spent months calibrating the engine management system, including many hours of in-house chassis dyno development. With a thorough understanding of the ECU's torque structure, APR's Calibration Engineers properly increased engine load to produce more power and torque from idle to redline. APR's ECU Upgrade increases turbocharger boost pressure and optimizes cam timing, valve lift, ignition timing, lambda and more to produce higher output. Using APR's proprietary high-speed data logging suite, the calibration team closely monitored the effects of these changes to ensure a powerful ECU upgrade without derogating the engine's drivability or reliability.
APR's ECU Upgrade will provide an excellent leap in power and torque while retaining OEM knock control sensitivity and other built in safety features.  The result is safely achieved power, optimized for various fuel grades found around the world. We call it Performance Without Compromise!
The APR Stage I ECU Upgrade is designed to work without requiring other changes to the vehicle's hardware. With the ECU Upgrade alone, APR's Calibration Experts measured higher peak figures of 381 ft-lbs of torque and 316 horsepower with 93 AKI octane fuel. Large gains were seen throughout the power band, including an additional 114 ft-lbs of torque and 87 horsepower. Even higher figures were achieved using 100 AKI octane race fuel. The increase in power directly translates to an exceptionally quicker vehicle. Using advanced GPS measuring devices and the local IHRA certified drag strip, APR's engineers conducted several acceleration tests. During the quarter mile sprint, the APR Stage I equipped vehicle crossed the finish line 1.094 seconds quicker, with an exit speed 13.3 MPH faster!
Application Guide
Year
Vehicle
Market
Engine
Engine Codes
Transmission
Price
– Pricing applicable to the USA only. If outside of the USA, please contact an APR Dealer and Importer for pricing.
– The first three letters of the vehicle's engine code are written on white bar code sticker on the side of the engine.
– Please note, VAG issues many ECU part numbers and revisions throughout their vehicle lineup. As such, some ECU part numbers may be temporarily unavailable when new parts or revisions are released. If the vehicle's ECU box code and revision is known, availability can be checked by calling APR, or visiting an APR dealer. Typical turnaround time for new ECU box code and revision is quick. Please contact APR for details.
2014
Audi A3
North America
2.0 TSI EA888 Gen 3
CNTC
Manual & S-Tronic
To Be Announced
2014
Skoda Octavia / VRS
ROW
2.0 TSI EA888 Gen 3
CHHB
Manual & DSG
$699.00
2014
Volkswagen Golf / GTI
North America
2.0 TSI EA888 Gen 3
CHHA, CHHB & CNTA
Manual & DSG
$699.00
APR Stage I ECU Upgrade Calibration Report
Stock – 91 Reported
by VW
Stock – 93 Measured
by APR
91 AKI
95 RON
93 AKI
98 RON
104 AKI
108 RON
– Max increases are based on APR's actual measured stock values and not those reported by VW. | RON = ROW Fuel Grades | AKI = North American (RON+MON)/2 Fuel Grades.
– Reported wheel figures measured on APR's in house Dynapack Dynamometer with a US Spec 2014 MK7 GTI DSG, using SAEJ1349 correction and an average of multiple runs. Crank figures estimated based on the measured wheel figures. Results will vary depending upon environmental conditions, vehicle, transmission, vehicle health, operating conditions, temperatures, fuel grade, dyno type, dyno setup, and other modifications.
Rev Limit
6,800 RPM
6,800 RPM
7,100 RPM
7,100 RPM
7,100 RPM
Speed Limit
Limited
Limited
Unlimited
Unlimited
Unlimited
Peak Horsepower (HP)
210, 220 & 230 HP
235 HP
305 HP
316 HP
328 HP
Peak Torque (FT-LBS)
258 TQ
270 TQ
371 TQ
381 TQ
382 TQ
Max Horsepower Increase over Stock*
+78 HP @ 3950 RPM
+87 HP @ 4,050 RPM
+97 HP @ 4,150 RPM
Max FT-LBS of Torque Increase over Stock*
+105 TQ @ 3,700 RPM
+114 TQ @ 3,800 RPM
+125 TQ @ 3,900 RPM
To make an appointment, please call 724-219-4167 or e-mail sales@nltuning.com