APR Boost Gauge System for the MK7 Golf, GTI and Golf R
APR is pleased to present the MK7 Boost Gauge System!
With Volkswagen's all turbocharger driven engine lineup gracing the new MK7 platform, APR was presented with the unique opportunity to bring visual excitement and technical awareness to the driving and tuning experience. After conducting extensive design studies and testing multiple revisions, APR has developed an elegant plug-and-play vent-mounted boost gauge system worthy of gracing the interior of Volkswagen's latest models.
The APR Boost Gauge System features a high quality and accurate electronic 52mm gauge with smooth and precise movement thanks to a microprocessor driven stepper motor. The gauge's anti-fogging polycarbonate lens allows reliable vent-mounted operation without fogging as is common on units without this design specification. Visual design cues were borrowed from the MK7 Golf, GTI and Golf R instrument clusters to deliver a dimmable LED backlit face with multiple needle colors that look right at home within the vehicle's interior. The gauge seats neatly inside a high-quality injection-molded vent mounted pod, resembling the OEM design, allows airflow to continue past the unit and still allows operation of the vent airflow control.
APR's plug-and-play wiring harness eliminates the headaches typically associated with integrating gauges into the factory system. The harness simply plugs into the gauge and into the factory wiring harness, eliminating the need to cut, splice and permanently alter the factory wiring with specialty tools. It's quick, simple, and carries the quality one would expect from APR.
A high-resolution 3 Bar MAP sensor mounts conveniently and tidily within the engine bay on a simple and effective firewall mounting bracket and provides the gauge with a means for reading boost and vacuum signals. OEM style wiring harness covers protect the wiring harness and provide a cleaner install and appearance. The MAP sensor needs a physical reference line to the intake manifold, and as such, APR recommends the APR Boost Tap System as the preferred delivery method.
Quick Facts:
52.4mm electronic gauge
Microprocessor driven stepper motor design with self calibration
Anti-fog polycarbonate gauge face
White gauge face with red or blue needles with chrome ring
Rubber seal between lens and face to prevent light bleeding
30 PSI to 30 in.Hg. resolution
Left hand drive injection molded vent mounted pod
3 Bar MAP sensor with mounting bracket
Map sensor mounting bracket
Plug-and-play and reversible wiring harness
OEM style wiring harness cover
Industry standard 12 month warranty
The gauge requires a boost tap to supply a boost pressure and vacuum signal to the included MAP sensor.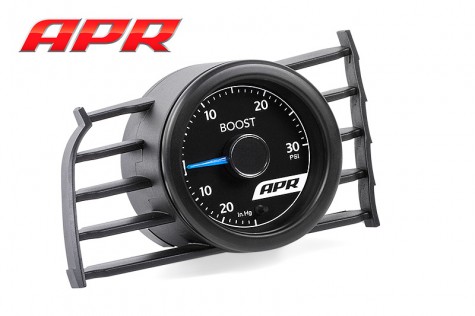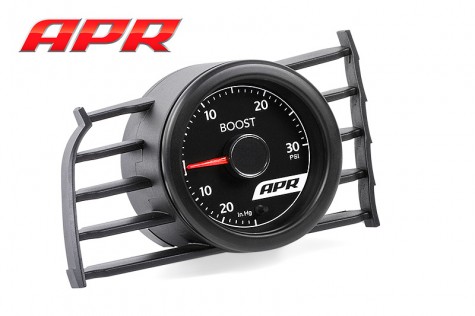 PRE-ORDER! Please note, we are accepting complete boost gauge system pre-orders with an anticipated ship date of February 1st, 2015.
Complete Boost Gauge System

| Needle | Gauge Face | Pressure | Vacuum | Size | Drive Configuration | Part Number | Price | |
| --- | --- | --- | --- | --- | --- | --- | --- | --- |
| Red | White | 30 PSI | 30 in.Hg. | 52.4mm | Left Hand Drive | MS100094WR30P | $299.99 | |
| Blue | White | 30 PSI | 30 in.Hg. | 52.4mm | Left Hand Drive | MS100094WB30P | $299.99 | |
Gauge Pod Only
For users looking to run an alternate 52.4mm gauge, APR's vent gauge pod is available separately.
Left hand drive configuration
Designed for 52.4mm gauges
Matches OEM interior vents
Completely reversible
Does not completely block airflow from vent
Compatible

APR

boost gauge
Gauge Pod Only

| Vehicle | Drive Configuration | Part Number | Price | |
| --- | --- | --- | --- | --- |
| MK7 Golf, GTI and Golf R | Left Hand Drive | MS100086 | $74.99 | |

Universal Gauge Kit Only:
For those only interested in the gauge, a universal kit is available here.