APR Cast Downpipe Exhaust System for the FWD 1.8T/2.0T Gen 3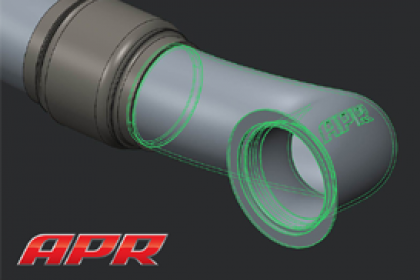 APR is pleased to present the ultimate Cast Downpipe Exhaust System!
Upgrading the restrictive factory downpipe with the APR Cast Downpipe Exhaust System is a great way to increase performance and add a sophisticated growl to the exhaust note. Ideal performance is achieved through expelling exhaust gasses at maximum velocity through APR's proprietary, low-turbulence, investment cast downpipe. Designed and assembled in-house, the system utilizes only premium materials and world-class manufacturing techniques to deliver unmatched quality and reliability.

Designed and assembled in-house.
T304L stainless steel construction.
Argon back-purged TIG welding.
Investment cast downpipe.
77mm inlet with integrated flange.
Low profile, sealed/corrugated flex section.
76mm outlet with integrated bracket.
8mm billet bracket.
76mm brushed and de-burred piping.
Non-swedged/slip-fit/flanged piping.
Investment cast o2 bungs with billet plugs.
300 cell, 100mm x 100mm GESI catalyst.
OEM-style slip-on clamps.
Reducer for OEM catback compatibility.
APR Stage II ECU Upgrade price waived.
Limited lifetime warranty.
The factory downpipe system consists of smaller, 63mm piping with varying bends and multiple restrictive high-cell-count catalysts, all of which contribute to a less than ideal flow path and hindered performance. APR's engineers took a multi-step approach to maximizing flow, reducing under hood temperature, and eliminating unnecessary restrictions all in a unique package only APR can deliver.
Cast Downpipe Inlet and Outlet
The exhaust system features a strong, investment cast, T304L inlet and outlet designed to maximize flow and minimize turbulence. By casting the inlet, APR's engineers were able to create a smooth and high-flow exhaust path that maximized flow through swept blends and shapes that are otherwise not possible through conventional fabrication techniques. The inlet perfectly matches the factory turbocharger's 77mm outlet and gradually necks down over a long distance to further enhance performance. The mounting flange and bracket are integrated into the casting, and TIG welding at the flex section ensures a clean inner surface eliminating turbulence, vortices and eddies to the highest degree.
With a nominal wall thickness of 2.55mm the downpipe is strong and produces a refined exhaust note compared to thin wall tubing systems. The cast sections undergo a tumbling process to smooth and de-burr any imperfections inside the pipe, while simultaneously enhancing the exterior finish. Lastly, all necessary surfaces are CNC machined for an accurate fit.
The APR Difference
The Engineering and Designing Phase
In the past APR worked with other manufacturers to develop a limited range of private-label exhaust systems outside the scope of APR's internal development and manufacturing capabilities. Understanding the limits of such a program, combined with APR's desire to deliver higher-quality products in a timely manner with better customer support, APR invested in internalizing the program. With the release of this exhaust system and the others like it, APR is pleased to present our first systems fully designed and engineered in-house from the ground up!
Design and development begins with the use of APR's professional grade in-house coordinate measuring machines. APR's engineers have full access to a Romer Absolute arm with integrated laser scanner, FaroArm and Creaform 3D laser scanner for collection of special constraints surrounding the factory exhaust system. The engineers scan the vehicles and create detailed 3D maps of their design environment while designing each system in PTC Creo 3.0 CAD software.
Using APR's in-house stereolithography 3D printer, rapid prototypes are created for fitment on the vehicle. The design is easily and quickly verified, and if necessary, changes can be made. Once adequate clearances and fitment is confirmed, especially in areas that move under load, physical quick-cast prototypes are created and fitted for final verification through real-world use.
APR's world-class manufacturing partners from around the globe are responsible for manufacturing each component that falls outside of APR's internal capabilities. Working closely with each manufacturer, APR's engineers supply CAD models, materials specs, and other design specifications and work hand-in-hand with the manufacturer to develop the components. The end result is a collection of components, wholly unique to the APR name, awaiting final finishing, assembly and quality control at APR's 78,000 square foot facility in Opelika, Alabama in the USA.
Application Guide
Vehicle
Engine*
Transmission
Drivetrain
Part Number
Price
*EA888 Gen 3 only. Does not fit EA113 or EA888 Gen 1 & 2 engines with non-integrated IHI turbo.
Volkswagen Beetle (MKII)
1.8T & 2.0T
All
FWD
DPK0007
$749.99
Volkswagen Eos
1.8T & 2.0T
All
FWD
DPK0007
$749.99
Volkswagen Jetta / GLI (MK6)
1.8T & 2.0T
All
FWD
DPK0007
$749.99
Volkswagen Scirocco (MKIII)
1.8T & 2.0T
All
FWD
DPK0007
$749.99
Volkswagen Passat (B7)
1.8T & 2.0T
All
FWD
DPK0007
$749.99
Stage II ECU Upgrade Information
For the best results, APR recommends installing the Stage II ECU Upgrade. This upgrade requires purchase of an APR Stage I ECU Upgrade, and is included for free to the original owner and original vehicle with the purchase of an APR Cast Downpipe Exhaust System!
Stage II ECU Upgrade Pricing
Engine
Retail Price
Price with Purchase of the APR Cast Downpipe Exhaust System
– Stage II software may not be available for all vehicles.
– Pricing applicable to the USA only. If outside of the USA, please contact an APR Dealer and Importer for pricing.
– Please note vehicle manufacturers issue many ECU part numbers and revisions throughout their vehicle lineup. As such, some ECUs may be temporarily unavailable as new parts and/or revisions are released. If the vehicle's ECU part number and revision is known, availability can be checked at any APR Dealer.
– Stage II pricing only applies to customers who have purchased an APR ECU Upgrade after February 16th, 2015.
1.8T EA888 Gen 3 – Front Wheel Drive
$149.00
Free!
2.0T EA888 Gen 3 – Front Wheel Drive
$149.00
Free!
If you are interested in purchasing this product, please contact us today.